The MR PORTER Style Council, the newly-relaunched ambassador-driven digital Rolodex, features recommendations, tips, facts and tools to discover and navigate the world's best bars, restaurants, hotels and brands. The Style Council is comprised of MR PORTER's elite-group of select Style Council members – from Mr Pharrell Williams through to Mr Hugh Jackman – and is searchable, filterable and sortable by venue type, city, and profession – all from the ease of MR PORTER.COM and our downloadable Style App.
With the relaunch, MR PORTER has added new tech and social media enhancements by integrating Google Maps, along with adding service partner support from OpenTable and Uber, so users can book rides and reservations directly from the Style Council page on MR PORTER.COM and in the MR PORTER App. MR PORTER Style Council is your one-stop concierge 365 days a year, 24 hours a day, and is accessible for reference and bookings all from the palm of your hand.
To celebrate the launch, MR PORTER will debut a dedicated issue of The Journal highlighting existing and new Style Council members who are leaders in their respective fields: art director Alex de Betak, paddle8 founder Alexander Gilkes, men's wear stylist Eugene Tong, adventurer and ecologist David de Rothschild, entrepreneur Imran Amed, and media publisher Wei Koh.
Additionally MR PORTER has appointed an in-house liaison, Style Council Director Ms Ashlyn Chesney, to oversee relationships with Style Council members so recommendations and profiles are as up-to-date and evolving as our members expanding palates and favourite things.
Ms Chesney and MR PORTER Brand & Content Director Mr Jeremy Langmead will kick-off the re-launch with intimate dinners around the world, hosted at some of MR PORTER'S favourite restaurants, all to be featured in Mr Porter's own profile. They are: Bennelong in Sydney; Rhoda in Hong Kong; Mark's Club in London, and the Waverley Inn in New York City.
"We're thrilled to be relaunching MR PORTER's Style Council, making it all the more accessible and functional for the modern man or woman on-the-go. It's a one-stop, mobile city guide populated by the most stylish and brightest minds around the world."
Mr Jeremy Langmead, MR PORTER Brand and Content Director
 "MR PORTER's Style Council boasts some of the worlds' most inspiring tastemakers.  From professional athletes to designers, musicians and journalists, these global citizens offer up their favourite places and dream items, providing advice, information and inspiration to men on a global scale.
Ms Ashlyn Chesney, MR PORTER Style Council Director
MR PORTER Style Council will re-launch exclusively on MR PORTER.COM 20th October and is also accessible through MR PORTER's Style App for mobile.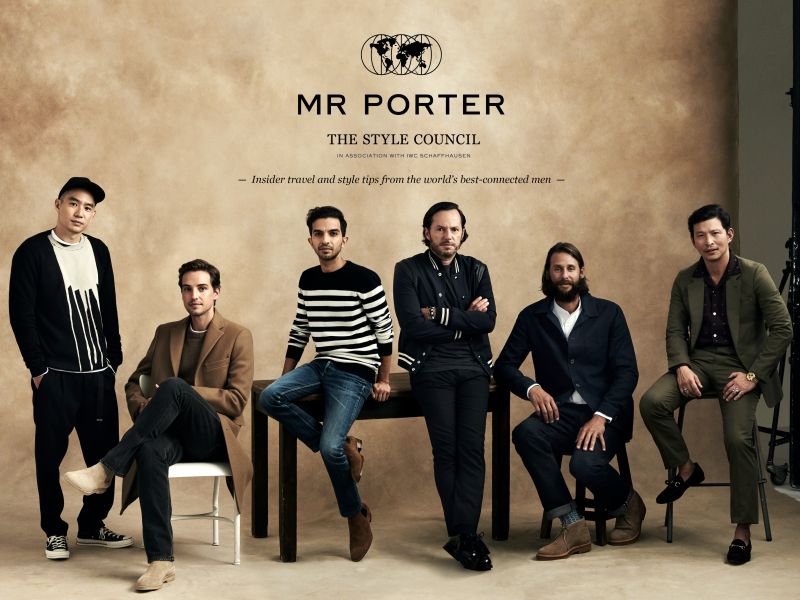 Credit: PR