Closing out Paris Couture Week at the landmark Palais Brongniart, Artistic Director Kim Jones delivered a truly spellbinding collection for Fendi Couture AW23. Joining forces with Fendi-heiress and jewellery designer Delfina Delettrez Fendi, the Italian house looked to its creations in high jewellery for inspiration.
As each garment descended down the runway, the connections to Delfina's designs were pronounced, even when no traditional jewellery was actually present. As Jones noted, "the clothes themselves take on the idea of jewellery…Colours come from flesh tones as well as that of stones: black diamonds, rubies, sapphires. There is a play of soft and hard, flesh and stone."
Silhouettes remained focused on fluidity and draping, enhancing the case for wearable couture or that which is "human and approachable", according to the designer. It felt simultaneously decadent and demure, harking back to the fundamentals of craftsmanship and couture. Opting for subtle intricacies, Fendi leaned into a sense of restraint and simplicity; "This is a bravura achievement whispered instead of shouted," explained the show notes.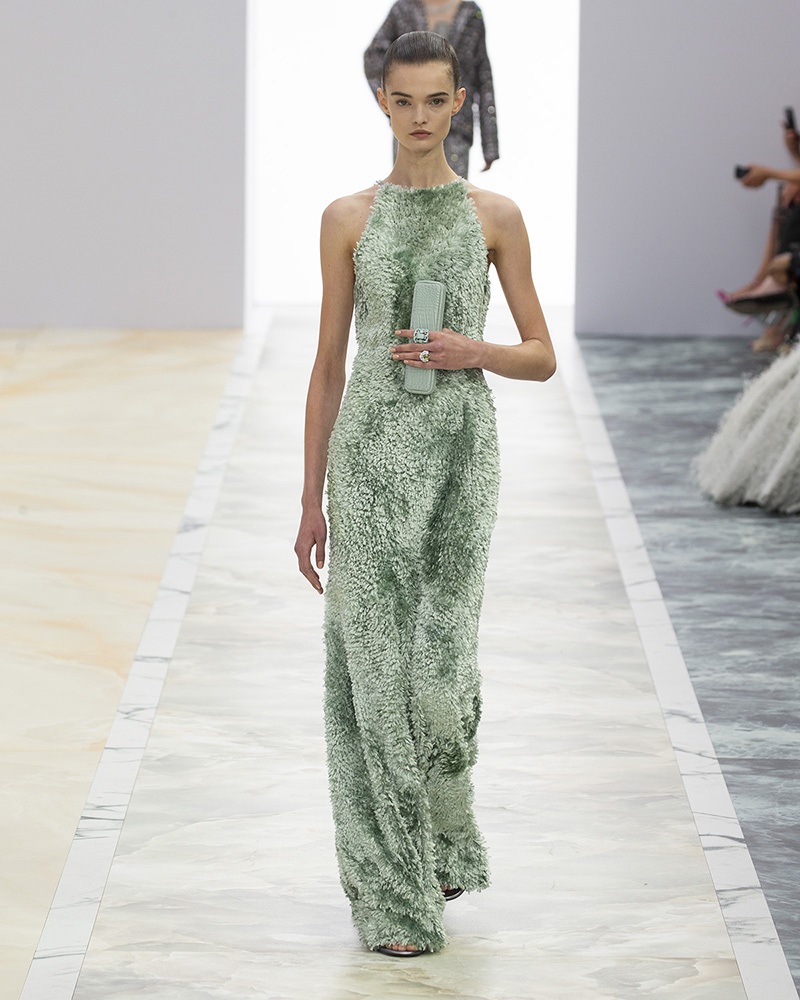 Of course as a couture showing, a certain extravagance was always guaranteed. Alongside the glitz, evening wear was also conceived in neoprene furs and feather shearling. Fendi is famed for its use of fur and in more recent years has led the charge in sourcing luxury sustainable alternatives. The collection grew all the more glittering and scintillating as it reached its crescendo: a mesmerising final look featuring a draped, rose-pink twin set that took 1200 hours of meticulous handwork.
In a further nod to Fendi's fascination with all that glitters, models could be seen clutching a jewel box minaudière, secured to the index finger by a central stone. Elsewhere, wide corset belts were wrapped across the chest, as models resembled the goddess-like Roman statues that Jones has referenced throughout previous collections.
Couture AW23 was also the unveiling of Fendi 'Triptych', a high jewellery campaign courtesy of Delfina. Like Jones, the jewellery designer was inspired by female agency and classical sculptures, as she notes, "Fendi Triptych celebrates a subtle majesty and feminine grace, fusing the rigour of Roman architecture with the eternal asymmetries, surprises and mirages of the natural world." Crafted from a combination of precious baguette-cut stones, a new Fendi heirloom was created in the form of a circular necklace, constructed from interlocking of its 'double F' monogram. The splendour of each one-of-a-kind design was emphasised by Delfina, "The collection of pink spinels alone that feature in the 'Undarum' set, took forty years to gather together and will probably never be replicated in nature again."
The creative union between Jones and Delfina proved a sublime and indisputable triumph for Couture AW23. After all, this was a collection focused on inherent interconnection, whether via its marriage of craftsmanship, its ties to a deep-rooted heritage, or the relationship between object and wearer, as Delfina explored: "there is an emotional relationship that I have with the jewellery in the collection that I hope the women who will eventually wear it will have too…they have a direct and intimate relationship to the body; they are a profound and personal extension of the woman."
Image Credit: Fendi