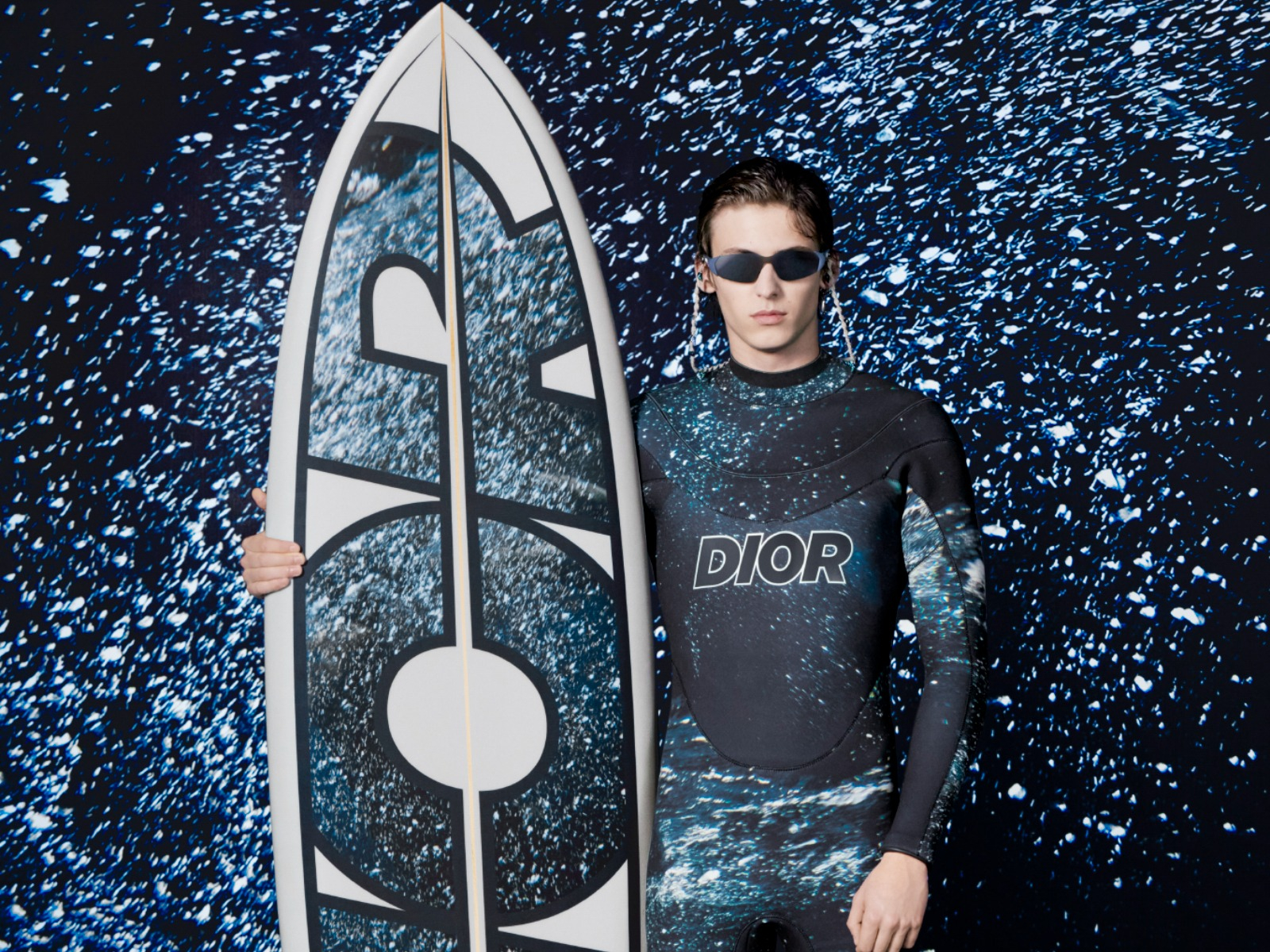 Dior Splashes Into Summer With Their Second Eco-Innovative Men's Beachwear Capsule 
Dior unveiled the latest collection from their seasonal Beachwear Capsule line, a small selection of garments that can be mixed and matched interchangeably with each other.
The Artistic Director of Dior Men, Kim Jones, teamed up with the environmental organization Parley for the Oceans for a second year in a row to collaborate on this capsule.
Founded in 2012, Parley's goal is to raise awareness about the fragility of oceans, often partnering with companies and brands to inspire change.
Birthed from House Founder Christian Dior's encompassing passion for nature and oceanic life, Dior and Parley began co-development on a research project in 2019. The fruits of their labor allowed for plastics and fishing equipment found in the sea to be given new life as the yarns and fabrics of this and last year's clothing sets.
Sustainable and stylish, the pieces encourage coastal adventure, prominently featuring full-body wetsuits, water-resistant jackets and coats, sleeveless mesh swim tees, and aquatic shoes. Head coverings to shield wearers from the sunshine also appeared, a silver ear-flapped cap and bucket hat as orange as a setting skyline adorning the model's heads. 
Teaming up with surf pros Vissla, through recycled materials and Japanese craftsmanship, all the wetsuits were created with both high performance and environmentally friendliness in mind. The blend of brand aesthetics on the exterior paired with a thermal jacquard interior make each wetsuit aquatically chic and durable.
French surfboarding brand Notox joined in as well, showcasing a custom Dior signature board created from upcycled polyurethane foam that practically begs to taste the waves.
Dior's continual advancement of their ecology of fashion grows with each passing summer, their Men's Beachwear Capsule cementing a precedent of viability and variety.
Here are our favorite looks: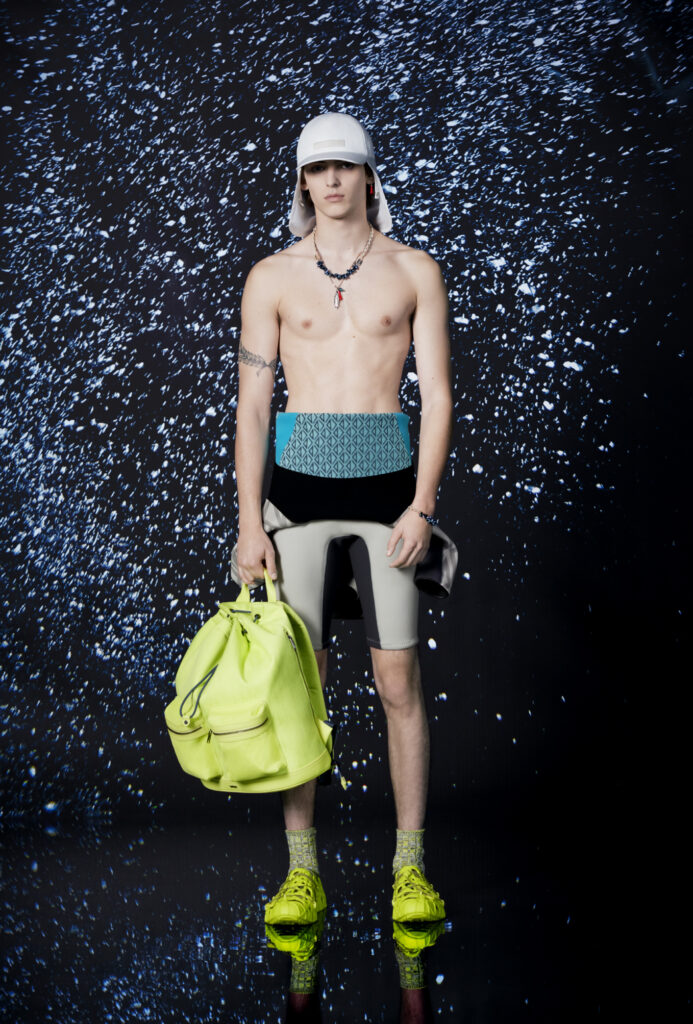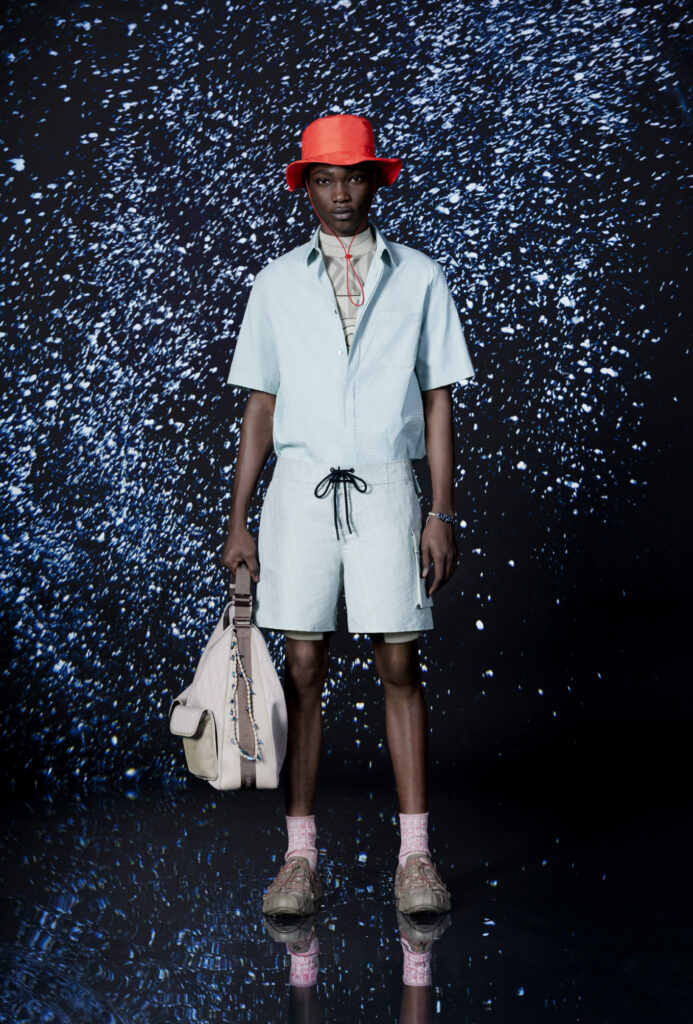 Image credit: Dior