We found the perfect new products for you! 

BE ONLY YOU
Beauty is about style. It knows no gender.Chanel creates a new line of makeup for men. Three imperceptible, easy-to-use products in midnight-blue packaging for brighter skin, defined brows and smoothed lips. So you can Be Only You.

FOR YOUR SKIN
BOY DE CHANEL – FOUNDATIONBrighten skin with an imperceptible lightweight complexion enhancer.

Create a smooth, even complexion with Boy de Chanel foundation, an imperceptible lightweight formula. Comfortable and easy-to-use, the fresh, fluid formula glides on effortlessly, leaving skin unified and hydrated. Invisible coverage delivers visible results that last morning through to night.

FOR YOUR BROWS
BOY DE CHANEL – EYEBROW PENCIL
Easily shade and define brows for a natural look. Easily shade and define brows for a natural look with Boy de Chanel Eyebrow Pencil. Retractable and dual-ended, it features a pencil on one end to shade and define, and a spiral brush on the other end to groom brows. The comfortable, waterproof formula lasts for 8 hours.

FOR YOUR LIPS
BOY DE CHANEL – LIP BALM
Smooth and hydrate lips for a natural-looking result.
Smooth and hydrate your lips with Boy de Chanel Lip Balm for a natural-looking result. The transparent, non-shiny formula nourishes lips for over 8 hours. The balm cannot be seen, only the results.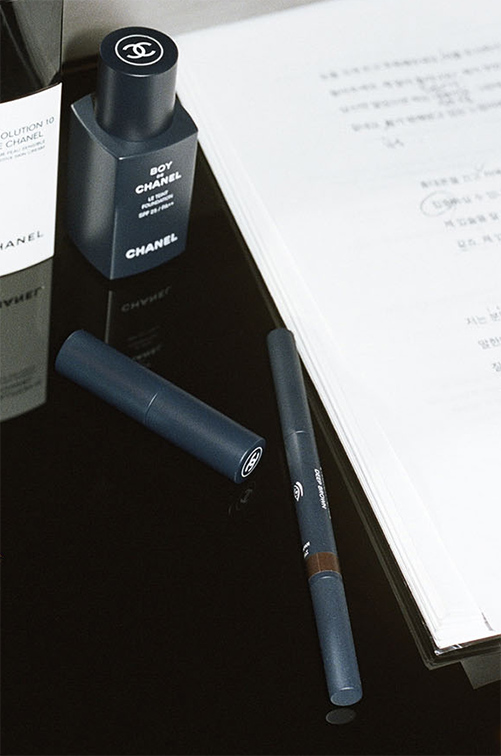 Credit: Chanel