AN OLD WORLD MEETS A NEW ONE – DIOR WINTER 2023 MEN'S COLLECTION
"THE CYCLE OF A FASHION HOUSE IS ABOUT REGENERATION AND REJUVENATION, JUST LIKE THE CYCLE OF FASHION ITSELF. THERE IS ALWAYS SOMETHING OF THE PAST IN THE PRESENT AND FUTURE AND DIOR IS NO DIFFERENT. IN THIS COLLECTION, WE WANTED TO LOOK AT THE REGENERATION OF THE HOUSE AFTER THE DEATH OF MR DIOR, AND ITS REJUVENATION WITH YVES SAINT LAURENT – HIS CHOSEN HEIR – DRAWING A PARALLEL IN LITERATURE, THROUGH IMAGERY AND THEMES IN THE WASTE LAND. IT'S WHERE AN OLD WORLD MEETS A NEW ONE, IN CHANGE AND IN FLUX." KIM JONES
THE THAMES AND THE SEINE: THE ANCIENT FLOW OF HISTORY AND MUTABILITY THROUGH THEIR REGENERATING AND REJUVENATING WATERS; A MOVEMENT FROM COUNTRY TO CITY TO SEA THAT IS ALWAYS DIFFERENT AND ALWAYS THE SAME. THE GREAT RIVERS OF LONDON AND PARIS, WITH THEIR CONNOTATIONS AND CONTRASTS, THEIR LIGHT AND MURK, SERVE AS BOTH LITERARY MOTIFS FOR T. S. ELIOT AND LIVING INSPIRATION FOR KIM JONES, THE ARTISTIC DIRECTOR OF DIOR MEN. IN THIS LIVING AND LITERARY HISTORY, SPANNING ANCIENT LANDSCAPES AND MODERN CITYSCAPES, PERIODS OF TIME CONFLATE. HERE, THE EDDIES AND FLOWS OF THE WATER REFLECT THOSE OF FASHION, INCLUDING THE WINTER COLLECTION WHERE FLUX, MOVEMENT, EASE AND FLUIDITY ARE CENTRAL. IT IS ALSO A REFLECTION OF THE DYNAMISM SOUGHT BY YVES SAINT LAURENT WITH HIS ASCENT TO THE HELM OF DIOR AT THE AGE OF 21 – ONE OF THE YOUNGEST COUTURIERS IN HISTORY.
65 YEARS AGO, ON THE 30TH OF JANUARY 1958, YVES SAINT LAURENT PRESENTED HIS DEBUT COLLECTION FOR DIOR AND THE FASHION WORLD WAS CHANGED ONCE MORE. IT IS THIS SPRING-SUMMER '58 COLLECTION THAT IS MAINLY DRAWN UPON FOR JONES' WINTER OFFERING, THE MEN'S HISTORIES INTERTWINING WITH A MELDING OF THE MASCULINE AND FEMININE, WITH BRITISH TAILORING TRADITIONS AND MATERIALS MEETING THAT OF THE HAUTE COUTURE TAILLEUR. INFUSING ALL IS A SENSE OF MOVEMENT, MODERNITY, PRACTICALITY AND EASE, A STREAMLINING FROM EXCESS TOWARDS AN AMALGAM OF THE FORMAL AND THE CASUAL IN INDIVIDUAL GARMENTS. SILHOUETTES ARE SOFTENED, CURVED AND MALLEABLE WHILE CLOTHES ARE HYBRIDISED AND METAMORPHOSED, WORN IN INDIVIDUAL WAYS WITH THE AGENCY OF THE WEARER. AN EFFORTLESSNESS INFUSES ALL, BELYING THE PRECISION AND COMPLEXITY OF A COLLECTION THAT NEVER LOOKS OVER-COMPLICATED.
AT TIMES GARMENTS ARE TAKEN DIRECTLY FROM THE ARCHIVE, TRANSPOSED AND TRANSFORMED: THE SAILOR TOP FROM YVES SAINT LAURENT'S PARIS ENSEMBLE IS LOOSENED IN CAVALRY TWILL AND ALSO BECOMES AN ELONGATED FISHERMAN'S SMOCK; THE OFF-THE-SHOULDER TAILORING OF ACACIAS ADAPTED WITH SLOUCHING INSOUCIANCE FOR MASCULINE WOOL SUITING, PART OF A NEW RECURRING SILHOUETTE AND ENSEMBLE; THE PASSE PARTOUT COAT WITH ITS LOOSELY TIED NECK NOW COCOONS IN A NEW SLUBBED, DONEGAL TWEED WITH THE ADDITION OF ZIPPED OPEN SLEEVES. AT THE SAME TIME, THE TRADITIONAL VERNACULAR LANGUAGE OF KNITS IS SUBVERTED THROUGH A SCULPTURAL APPROACH TO STYLING AND DRAPING TOGETHER WITH A MELDING OF TAILORING. IN COUNTERPOINT, STARTLINGLY NEW PIECES SUCH AS 3D PRINTED SHOES AND BOOTS, AND ARCHETYPAL SEA-FARING UTILITARIAN OUTERWEAR EXTEND THE REACH OF THE HOUSE'S SAVOIR-FAIRE TO AN UNPRECEDENTED CONTEMPORARY LEVEL. MEANWHILE, BAGS PRIMARILY TAKE ON AN IDEA OF DISCRETION, ELEGANCE AND PRECISION, STRIPPED OF EXTRANEOUS ELEMENTS WITH A BOX CONSTRUCTION IN VERNIS – AN ECHO OF YVES SAINT LAURENT'S STRIVING FOR MODERN SIMPLIFICATION.
SEE THE NEW WORLD HERE: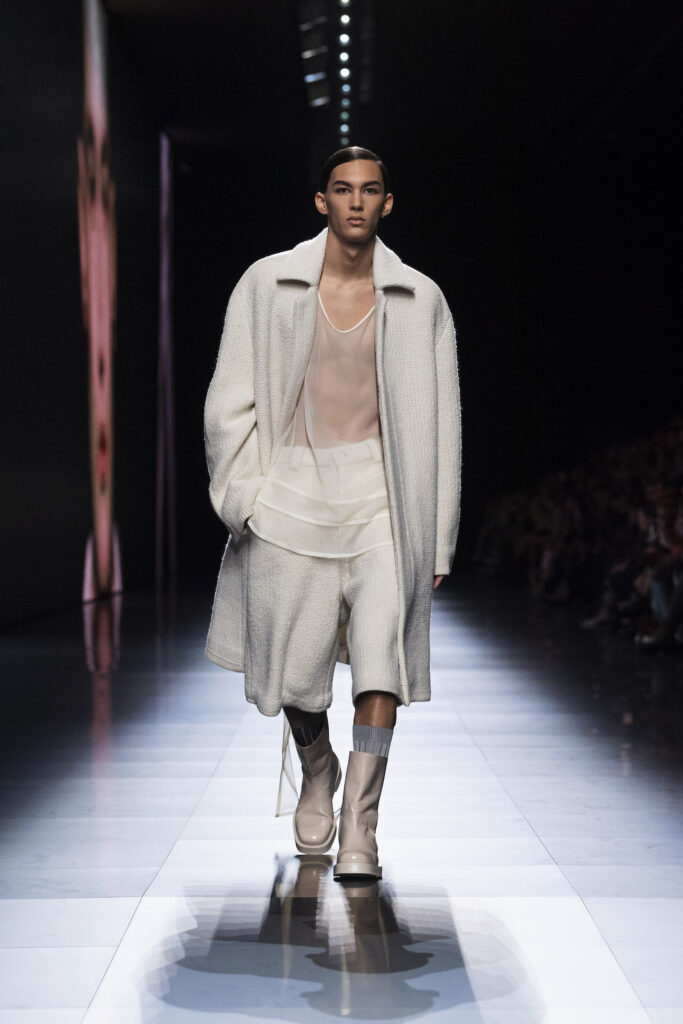 Image Credit: Dior