Today's man has fundamentally and nonchalantly redefined the topic of care – in keeping with Elvis Presley's recommendation, "A little less conversation, a little more action". It is no longer necessary to choose between masculinity and smart body care because these days 5 o'clock stubble and a designer suit, moisture care and a Land Rover or styled hair and a weight bench are an effortless combo.
La Biosthétique's new men's range, which is strikingly dubbed HOMME, goes one step further with it's innovative, cleverly conceived and concise care concept. In collaboration with the global La Biosthétique experts, the developers of HOMME have customized a high-tech care range that uncompromisingly responds to the needs of real men.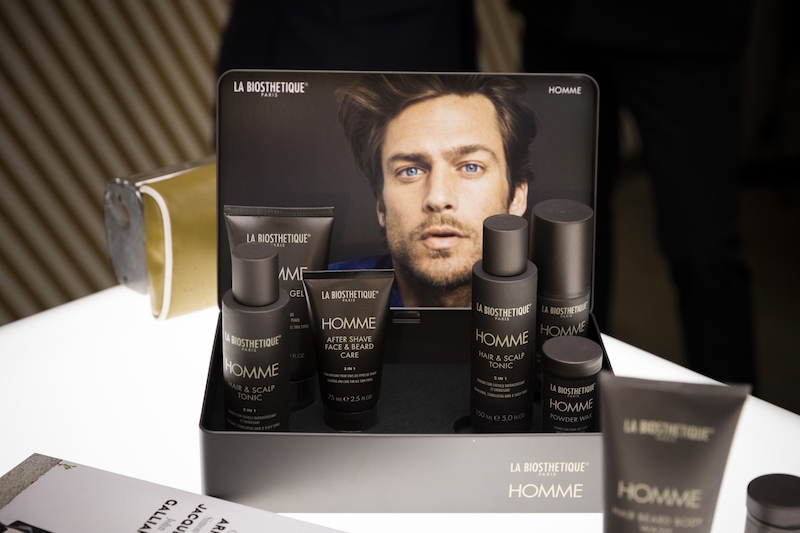 HOMME enables every man, no matter what age, whether bearded or clean shaven, to enjoy both easy and effective care. The eight-product range is characterized by a maximum output as it both simplifies the daily care ritual and fulfills the highest demands.
This begins with the fact that the HOMME range has a compact structure and doesn't need a day cream. The 3 in 1 product HOMME After Shave Face & Beard Care offers precisely the protection and lasting moisturizing effect that men's skin needs, and it also provides beard care. In addition, HOMME features a double synergy effect: On the one hand, the biomimetic active ingredients work together. On the other hand, the eight players work together as the HOMME team. Every single product offers the highest-level performance, their collaboration lifts it to a new level.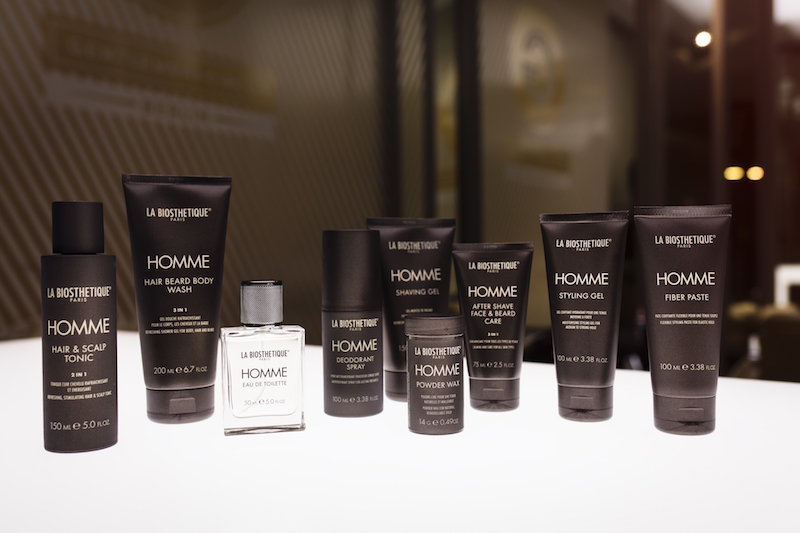 The heart of the HOMME cleansing and care products is Cell Energizer.
"A mineral complex activates the cell energy cycle and thus supplies the skins cells with oxygen so that their energy supply, ATP synthesis in the mitochondria, is optimised", explains Volker Hell, Skin Product Development and Quality Assurance Manager at La Biosthétique. The bioavailability of the minerals magnesium, zinc and copper is increased by gluconic acid and aspartic acid. A 24-hour Hydro-Protect complex of polysaccharides of brown algae, amino acids from the microalgae Chlorella vulgaris and seawater minerals ensure a long-lasting moisturising effect, the secondary plant substance betaine is conditioning, anti-irritant and hydrating, and a plant lipid complex has been integrated to give an instantly improved skin sensation. This mineral cocktail works in synergy with selected natural substances which are added to each product.
As needed, these cell energy boosters are supplemented by mild plant surfactants and conditioning, hair-similar substances. After all, they are all designed for face and beard care. For the pure hairstyling products, La Biosthétique was able to utilise a wealth of experience garnered in direct exchanges with its customers. "The new men's range Homme features three highly effective styling products that were developed specially for contemporary men's looks", reports Alexander Dinter, International Creative Director at La Biosthétique. Boosting the optical appearance, the three styling products are formulated so that they are unaffected by sports, long days in air-conditioned offices and crazy parties. At the same time, they fulfil the wish for a natural look because they are not sticky and give tamed hair that necessary touch of flexibility.
Also new, HOMME the male scent composition features a fascinatingly tangy top note of bergamot, pepper, sage, lime and grapefruit. A soft heart note with water lily, orchid, jasmine and rose that transitions to a masculine base note with warm, earthy scent components of vanilla, cashmere wood, cedarwood, moss, musk and ambergris.
We love the new products for La Biosthétique, you have to try it.
Credit: La Biosthétique