Standing the test of time.
Audemars Piguet is the ultimate example. Since 1875, they have been crafting timepieces for the sports-minded to the fashion-led with a raft of style and designs made to the highest quality. It is a brand that has adorned the wrists for years with its powerful functionality and undiminished style. Ever-evolving, ever-reliable, these exquisite watches continue to excite each generation, none more so then the stunning 'Royal Oak' collection. A collection then epitomised by the latest Limited Edition version.
The Royal Oak Frosted Gold Limited Edition 41 mm is similar to its predecessors yet so different. The famous octagonal shape and the hexagonal screws remain the same however, an elaborate surface decoration has been used.  Rather than covering the jewellery in precious stones (which can sometimes look overbearing) the gold is hammered with a diamond tipped tool instead. This creates the dazzling effect you see below.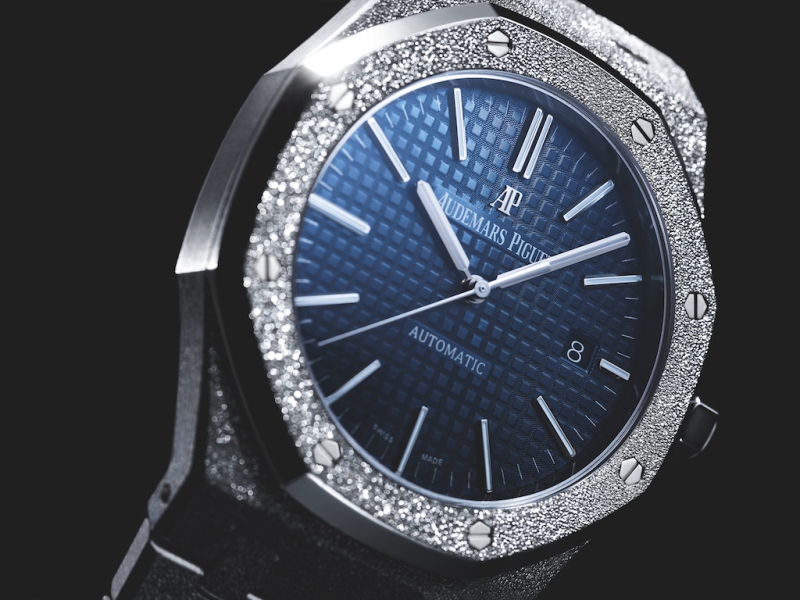 As an accompaniment, they have also released six new Royal Oak cufflinks. These are available in stainless steel with blue, black or silver "tapestry"-pattern, two in Rosé gold with a blue or Black pattern and finally a version in yellow gold with blue a "tapestry"-pattern.
Credit: Audemars Piguet