Paulo Coelho writes a new chapter and presents his messages in jewelry form with PURE ICONS
I was in love with Paulo Coelho's new jewelry collection from the first time that I had laid eyes on it.  Maybe it was love, because he is one of my favorite authors.
So much more than the message appealed to me, because you can keep it with you, by wearing it every day.
Paulo Coelho is one of the world's most successful writers. To date, the Brazilian author has sold more than 170 million books and seen his work translated into 80 languages. With over 30 million followers on Twitter and Facebook, he is a social media giant. Coelho has a global fan base that encompasses all sections of society. From teenagers to great-grandmothers, from politicians to pop stars, in Africa and in Europe – his works are known all over the world. In addition to numerous international personalities such as Madonna and Bill Clinton, Pharrell Williams also counts himself among Coelho's greatest devotees.  In a recent emotional and moving interview with Oprah Winfrey, Williams explained how Coelho's The Alchemist changed his life significantly.
PURE ICONS: Elegance with meaning
A declaration of love – or another fascinating reading of Paulo Coelho 
For the first time, his work will appear in jewelry form as PURE ICONS. His first jewelry collection will appear on the market at the start of 2015. The messages previously conveyed by his writing in the form of exclusive jewelry items. Coelho is sharing his message in a new way and with people who wish to make timeless values and their feelings clearly visible to themselves and others. For Paulo Coelho, this is the fascination of PURE ICONS.
PURE ICONS: The collection
Crafted from 925 sterling silver and reduced to the essentials
The collection is made up of bracelets and necklaces. As is typical of Coelho, it is characterized by a purist style, the absence of the trivial, simple iconography and the perfect craftsmanship of a piece of jewelry.  All pieces are made in Germany. 
For the first Paulo Coelho PURE ICONS collection, quotes were chosen from his bestsellers The Alchemist and Aleph. The bracelets from the Aleph range and The Alchemist necklaces have been embossed in 925 sterling silver plates and are available in three different designs. Coelho's words are delicately engraved on the jewelry in both Portuguese, his native language, and English. Fine decorative elements are incorporated into the black cotton ties. The bracelets are handwoven in two different sizes with 27 knots. The necklaces are also available in two sizes on beaded chains. 
Whether timeless in silver or gold, stylish and elegant in fine rose gold, the PURE ICONS collection combines decorative arts, modern and stylish design and Coelho's inspiring words in elegant jewelry.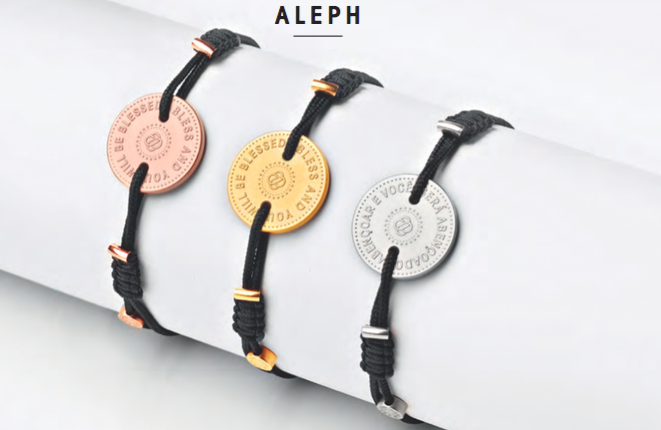 PURE ICONS for a good cause – supporting Instituto Paulo Coelho
To set the standard, Coelho will be donating his proceeds from the sale of the PURE ICONS collection to a charitable project, Instituto Paulo Coelho. Through this foundation, which he set up in 1996 together with his wife, Coelho has been working for years to help the underprivileged sections of Brazil's population. Paulo Coelho has received many international awards in recognition of his social commitment, including the BAMBI award for culture in 2001 and the CORINE International Book Awards. He was named special advisor for intercultural dialogue by UNESCO in 1996 and a UN Messenger of Peace in 2007.
Seen at APROPOS Store in Hamburg & www.paulocoelho-shop.com
Photo: ©PR